Managing all the information about each student and maintaining it for many years is mandatory for each school. With NEP 2020, this will grow even more important as student's test score reports and overall performance reports will also have to be maintained till the student completes his/her school education.
As the school gets older, more and more data is collected. However, it is very difficult to retrieve any data. Many schools have student data maintained in a register. Current student data is maintained using forms. The data collected in different forms is difficult to aggregate and retrieve when required. Also, it is far impossible to draw out trends and analyses from this data.
So the 1st alternative that comes to mind is Google Forms Anytime, any information needs to be collected, google forms are created and sent across. However, data from different google forms cannot be aggregated together in one place for analysis and usage.
2nd option to maintain student information is to use Student information management software. Such software is a good source for maintaining all student's data in one place. However, you may not be able to store customized information about students. Suppose a school wants to know "how many students belong to yellow house and like singing", for a group singing competition. There is no way to do this.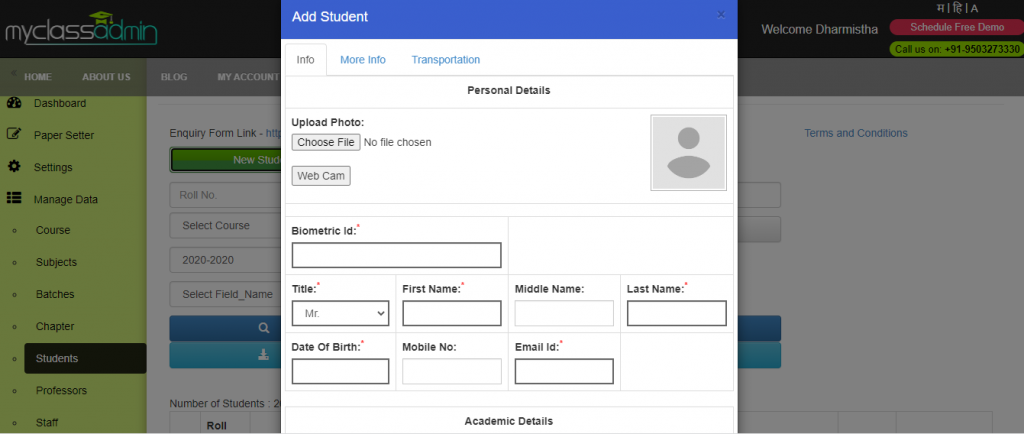 This is where MyClassAdmin helps you. MyClassAdmin Students Management System can be highly customized; you can create your own fields for which information about each student has to be stored. Further, you can also combine fields and search for students with specific values e.g "Yellow House" etc.
Further, you can also know the count of students from each standard and division that fit your criteria. Student Information is stored from year to year and previous year student's information also can be easily accessed.
If you would like to try this wonderful School Student Management System and make your life hassle-free – "Create your Account" and Start 10 days FREE Trial
Register Now
---
To Know More…
Visit Our Site:- www.myclassadmin.com
Contact Us:- info@myclassadmin.com
Call Us On: +91-9503273330
Click Button – Schedule a Free Demo