Online Assignment & Homework Submission Software
A professional online tool for handling student assignments efficiently
Are you collecting paper assignments that are difficult to handle and store?
Do you wish to correct assignment while you are travelling or any other free time?
Do you want to conduct time-based written exam for your students and keep a check that they finish on time remotely?
MYCLASSADMIN ONLINE ASSIGNMENT SUBMISSION SOFTWARE IS THE SOLUTION TO ALL YOUR PROBLEMS
MyClassAdmin Online Assignment submission software helps to create Assignments, upload related files Set Start and End Date-Time using to search & add assignment module.
MyClassAdmin Online Assignment module in Students can upload their assignment in PDF, word, PPT etc format. They can re-upload assignment until the end-date.
Teachers can evaluate each assignment and assign marks to each student. Teachers are also ask the student to re-submit the assignment if required.
Students can view the marks/grade assigned for the given assignment.
MyClassAdmin Online Assignment submission software helps to select option to allow or disallow downloading of each file.
Using this Assignment module, teachers can view cumulative report for assignment grade for each batch of students.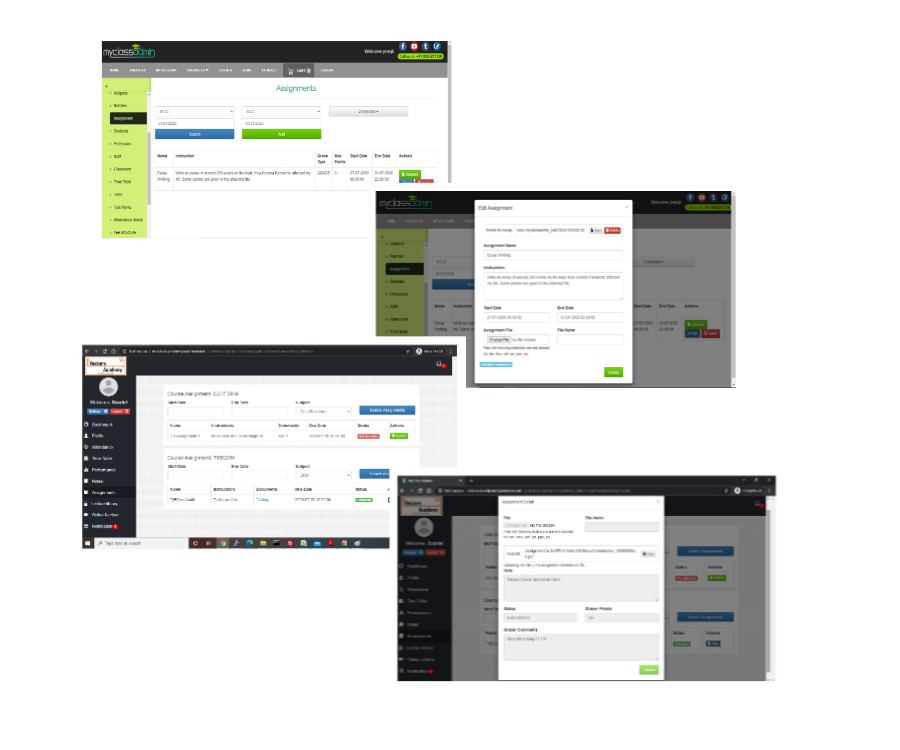 PACKAGES :
STARTER
10 Day Trial Access
FREE
Upload Assignment question
Manage Student submission
Evaluate Student Submisson
Student Grade/mark report
Validity:10 days
200MB storage
STANDARD
Suitable for private tuitions and coaching classes
Upload Assignment question
Manage Student submission
Evaluate Student Submisson
Student Grade/mark report
Validity:365 days
10GB storage
AlSO VIEW :