ONLINE TESTS
Do you want to make your class more interactive with maximum participation?
Do you want to get an instant feedback on the lecture that you have just delivered in the class?
Do you want to reduce the time and resources required to conduct paper based class tests and their assessment?
Do you want to assess your students preparation frequently?
MYCLASSADMIN IS GLAD TO INTRODUCE "ONLINE TESTS" TOOL TO YOU .
You can now set tests instantly from our huge database of questions within few clicks.
You can publish this test to a batch in your class.
Students when login to their accounts on myclassadmin, they can view and take this test.
Tests given by students are instantly evaluated and result + detailed solution is displayed to students.
You can view the score of each student instantly and also get the class statistics on the test.
This will help you judge the preparation level of students.
You can alternatively judge the understanding of your lecture to the class.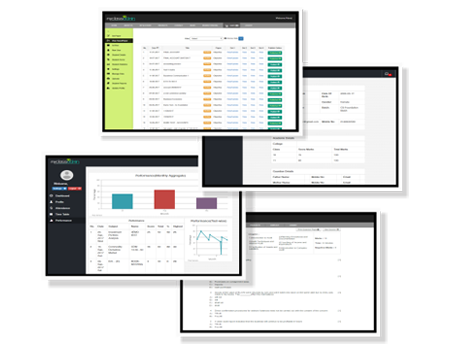 Inorder to enable this module, you will also need a Paper Setting module to set test paper and Student/Class Details module so that each student has a login.
PACKAGES :
STANDARD
Suitable for private tuitions and coaching classes
Create and Publish upto 150 test papers
Publish paper for each batch
Set test deadline
Instant test evaluation with detailed reports
Test performance for individual student and class
Tests work on Phone as well as PC
AlSO VIEW :