Student Management System
Student Management System is a basic module to store all the student information on the server in the electronic format and maintain it for years. In addition to this you can also store information about professor and staff and track their attendance. This module is basic requirement for other modules like Online Tests and Biometric Attendance.
It aims to create a "master" database for your institute which you can use for many other purposes.
FEATURES:
Save and search students information instantly.
Save and maintain staff and professors information.
Save and record time-table for each batch. Schedule online test for each batch.
Create class logins for each student where students can check their time-table, tests, attendance and test scores.
Record test scores.
Get detailed report for student based on his/her test results.
Get class summary report for their performance on tests.
Export data and report for students .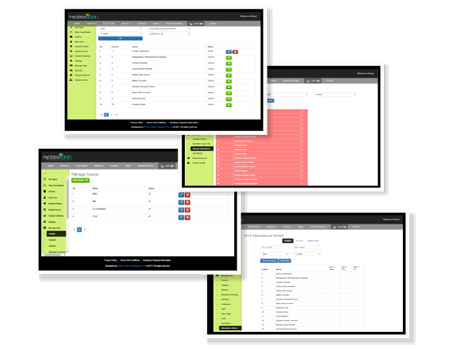 PACKAGES :
STANDARD
Suitable for private tuitions and coaching classes
Student Enrollment forms
Set Time table
Students personal login.
Upload test scores
Test performance for individual student and class
Professor and Staff information
AlSO VIEW :